The Hairstyles of Bu Bu Jing Xin
I am annoyed to no end by the need to find out how the ladies in Bu Bu Jing Xin managed to attach those huge headpieces to their heads.  So I found a site that had a short explanation of how they at least 'formed' their hairstyles. For those of you who want to read that particular part, it starts at the 4th picture.  Apparently they used some kind of gel to hold the hair in place, and the huge hairpieces had some sort of frame.  But that still doesn't explain how they actually attached the frames to their heads.  Seriously, my mind is boggled by how they kept the frames on.

Anyway, the hairstyles are quite important in this time period, as they denote one's status.  In case you haven't noticed, the younger and lower rank Ruo Xi was, the simpler the hairstyle, and of course they don't use very fancy/flashy hair decorations.  Those who are married with a higher status have larger hairpieces, flowers, and more elaborate hairpins. 
Ruo Xi starts out with a simple, smaller hairstyle in the very beginning of BBJX.  [How in the world to they keep the flowers in place?  Do they tie them down or something?]  My favorite is the one she wore for Chinese New Year's (bottom left pic), when everyone greeted the emperor at the court.  It was really the most striking hairstyle on Ruo Xi, because the red flowers and the beautiful hairpins really stood out.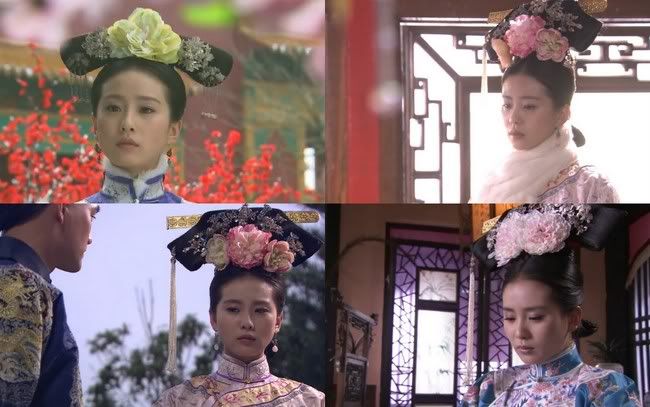 However my favorite hairstyles overall for Ruo Xi are the ones after she becomes the sort-of-concubine of 4th and later the wife of 14th.  They are more elegant and elaborate than the other ones.  I think it's also interesting that they have a gold bar at the top of the hairpiece.  Is that really accurate, or is it an addition made by the drama..I don't know. Anyways, I think it is a bit of a shame that Ruo Xi got to wear a more beautiful hairpiece towards the end, but she never really wore it with any joy.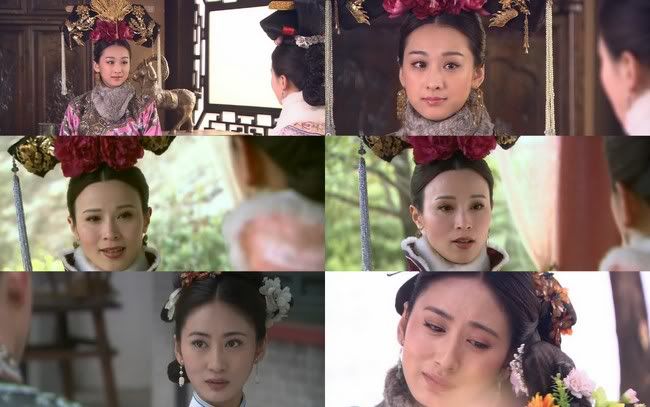 My favorites are actually Ming Hui, the Empress (4th's wife), and Lu Wu.  Of course I'm pretty biased because I love the Empress and Ming Hui's characters, hehe.  However I also think that the Empress & Ming Hui had the most striking hairstyles because they used darker colored flowers that contrasted well with their skin tone.

As for Liu Wu, she had a more conservative hairstyle but I think it's one of the only ones that actually looks feasible without an extra hairpiece.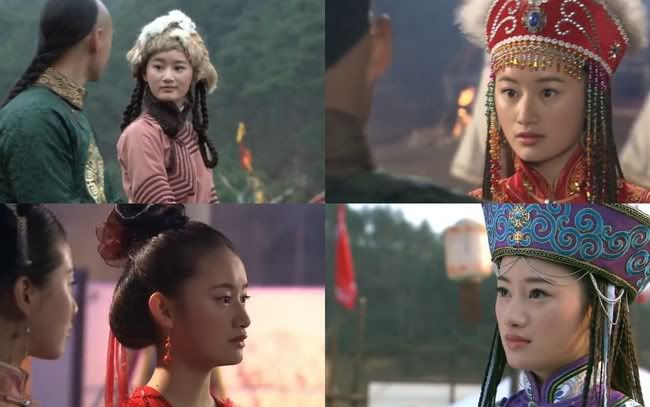 Last but not least, Min's hairstyles were also wonderful, especially with her ethnic hats.  I loved her long braids along with the beaded strings hanging from her hats.  And of course, her hairstyle during her dance (bottom left pic) was quite beautiful, but I think it was more modernized and not that accurate.
Overall
This was pretty much a "how in the world did they do this" post.  And I didn't really give any answer. T_T  But really, I can't be the only one fascinated by how they managed to do such hairstyles.

*Update* After watching the Legend of Zhen Huan, I realized that the hairstyles in Bu Bu Jing Xin are not as accurate or elaborate as they could be.  Of course I still think the BBJX hairstyles are beautiful, but the ones in the Legend of Zhen Huan are really something else.  Head on over to Zhen Huan if you want to see some amazing hairstyles. *_*