Bu Bu Jing Xin: Ep 21
I'm sorry. I think I'm slowly defecting over to 14th's side. AUGH AUGH AUGH! BUT I still support 4th/Ruo Xi because I know they are the true destined pair, and I love 4th too. But omg……..14th is seriously catching up.
I have to say that the first scene in episode 21 is one of my favorite scenes ever. 14th begs the Emperor to let Lu Wu stay with 13th. The Emperor is obviously against the idea, because of Lu Wu's status as a courtesan. 14th implores the Emperor to allow Lu Wu to take care of 13th, so that he can have a companion to survive his imprisonment. So, the Emperor punishes 14th by ordering him to go kneel outside. The usual punishment, you know.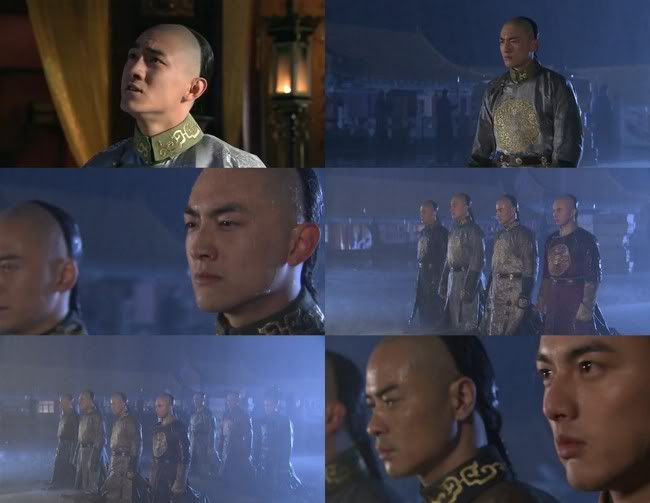 SO. 14th goes out to kneel in the rain all alone, in front of the Emperor's quarters. ARE YOU FALLING FOR HIM YET?!?!? AND THEN. AND THEN.
9th, 10th, and 8th go out to KNEEL WITH HIM. OMGGGGGGG. THE BROMANCE!!!!!!!! AND TO MAKE IT BETTER, 4 of the other princes walk up and kneel with 9th, 10th, 8th, and 14th. OMGGGGGG. And the dramatic music and the rain and the way they silently just kneel there in unity, OMG.
You have to admit. No matter how much you despised 8th for targeting 4th/13th, you have to love the 8th group's bromance. They're all so loyal and look out for each other.
The next day, Ruo Xi wakes up in her house. Yu Tan tells her that after 14th and the other princes knelt outside, the Emperor pardoned her. The servants discovered Ruo Xi collapsed in the garden.
"The Emperor's heart is quite hard to understand. Rewards don't necessarily mean favor and punishment doesn't necessarily mean disfavor."
14th and 10th come to visit Ruo Xi. I love 14th and 10th!!!
The doctor takes Ruo Xi's pulse, and determines that she has a condition that's resulted from long term stress, not just from her kneeling outside. Ruo Xi thinks to herself that in modern terms, the doctor is describing rheumatism.  She avoids 14th and 10th's concerns by making up an excuse.  14th promptly points out that this is what Ruo Xi always does, never telling them what's wrong.
10th cutely tells Ruo Xi she should be happy, because 14th accomplished what she wanted. 14th modestly walks a bit over to the side, as 10th tells her that Lu Wu is allowed to stay with 13th. Ruo Xi immediately bows to 14th in gratitude.
Omg, I love 10th so much. He cutely says that if he had known about the situation, he would've gone and knelt with 14th too. 14th tells 10th that it's not like the Emperor would relent even with more people kneeling.  I think 10th is one of the happiest princes.
4th visits Ruo Xi. He tells her he can no longer ask the Emperor for her hand in marriage. Ruo Xi replies that she already predicted this would happen.
"You can hate me. It's all my fault that I have wronged you.
Ruo Xi remains silent as she starts to cry.  4th tears up, but he leaves the room without saying anything else, leaving Ruo Xi there to break down in tears.  Ruo Xi is completely heartbroken.  This scene really got to me. :'(
Time for another dramatic hat-removal!  The Crown Prince has been demoted by the Emperor.  The princes are called to court *cue dramatic music* so the Crown Prince can give up his position.  He takes off his hat as he tears up and begs for forgiveness.
Ruo Xi observes the changes after the Crown Prince's demotion and 13th's imprisonment. 4th becomes a very filial son to the Emperor. He withdraws from politics and focuses on having a simple life. 4th even gives up his usual burgundy robe for a plain one. Ruo Xi and 4th rarely meet after their 'break up'.
4th: "Why don't you hate me?"

Ruo Xi: "Why should I hate you? Because you didn't keep your promise? What a joke. Do you have to hold onto your faith, only letting go at death?…I'm not willing to hold on and die. I would rather live freely…Only with endurance can one have happiness in the future."
Other thoughts
It's such a disappointment that Ruo Xi and 4th can't be together now.  Obviously being together is harder than they thought it would be.  However, now that 13th & Ruo Xi are taken away from 4th, he has a greater impetus to aim for the throne.  What's sad is how easily Ruo Xi gives up on their marriage.  She has to accept it, because there's no way 4th can marry her after 13th's situation.  We're seeing more and more of the meaning of "Startling With Each Step".  The title probably makes more sense in Chinese, but now we see that Ruo Xi has been walking on eggshells for years on end.  Just one misstep, and suddenly 13th is imprisoned.  Even Crown Prince has been stripped of his title.  All the  princes have to watch their step to survive in the palace. 
I didn't care much for Yu Tan's long story. (which I skipped over in this recap)  I LOVE 14th/10th/Ruo Xi's friendship though!  They're so cute together!  The rain scene with all the princes is definitely one of my favorites.