Bu Bu Jing Xin: Ep 12-13
I'm so obsessed with BBJX that I'm kinda scared of what I'll be like when the 4th/Ruo Xi shippy scenes start up.

In episodes 12 & 13, 8th and Ruo Xi happily act like little lovebirds.  They walk hand in hand out in the forest.  They stargaze together.  They ride together.  It's weird seeing them together after all these episodes of Ruo Xi rejecting 8th.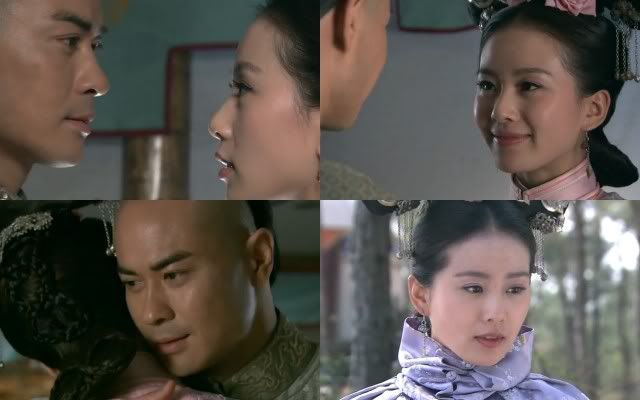 What's so sad is that their happiness is short-lived.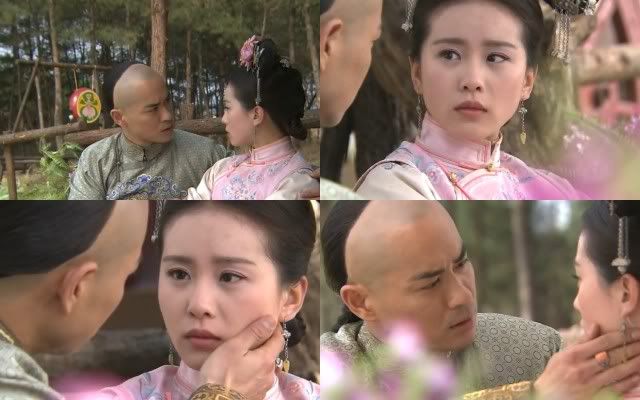 Ruo Xi & 8th sit together in the forest.  8th tries to kiss Ruo Xi, but she has a flashback of 4th's forced kiss, and pushes him away.
"Ruo Xi, do you know throughout all these years, how much I've missed you?  I wish for you to willingly, happily marry me.  I don't want Ruo Lan's incident to happen again.  But your heart is always so difficult to understand…Don't look at me like that.  Why do you always use that gaze to look at me? (BECAUSE SHE KNOWS WHAT'S GONNA HAPPEN TO YOU!)"

"I don't want to lose you.  I want you to always be well."

"You won't lose me.  I'll always guard you by your side."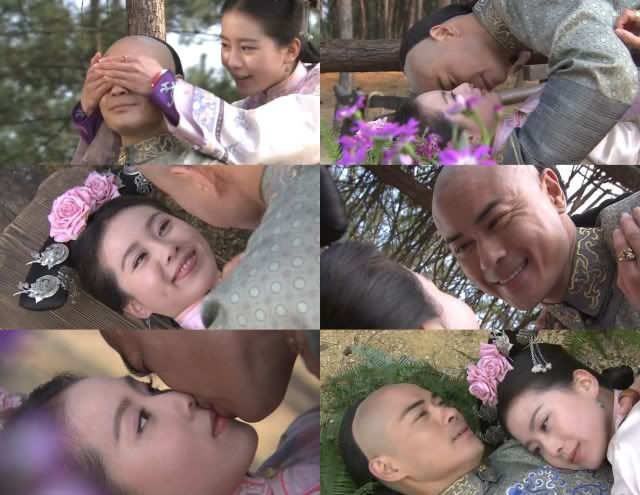 8th kisses Ruo Xi, and they both fall to the ground.  And happily continue to kiss.  8th literally has a plant for a pillow.  On the forest floor.  Erm….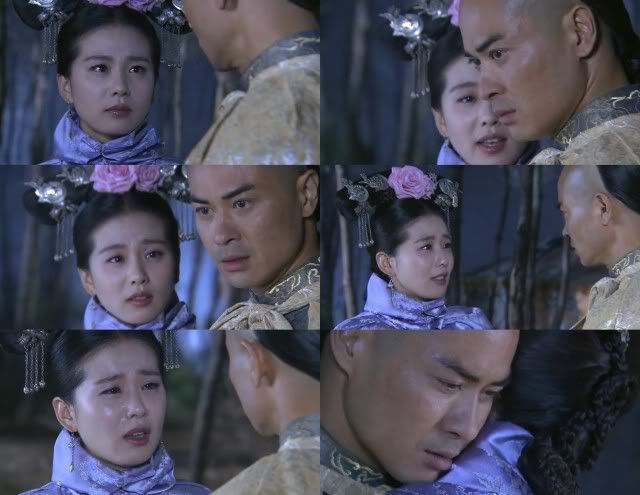 This is basically the moment where everything falls apart in 8th/Ruo Xi's little happy fairy tale.  Ruo Xi and 8th go for a walk in the forest.  Ruo Xi takes the opportunity to breach the subject of the throne.  She agrees to marry him, only if he gives up the throne for her. 8th stops right at that moment, and the change on his face is SCARY.
"I don't think this has anything to do with the two of us."
Well, you're gonna be together, I think this is kinda a serious issue.  8th attempts to say "I think you're tired" and avoid the subject.  Ruo Xi pursues the issue and talks about all the things they can do together in the different seasons of the year.  What's sad is that she probably knows she's just dreaming, and that it'll never happen.
8th thinks that Ruo Xi has been approaching him the entire time, solely to make him give up the throne. 
"…every single word you said to me, was it all for today?"

"My feelings for you are true."
And then Ruo Xi does the most heartbreaking thing ever–she grabs 8ths hand and puts it on her heart while breaking down in tears..
"You know it.  You are inside here.  You know it!!!"

"Ruo Xi…why…Why can't one decide his own destiny?…In my own heart, I thought the same way."
OMG and the dramatic musics makes the scene all the more saddening.  Knowing the ending has changed my perspective a bit.  I empathize more with Ruo Xi, because like me knowing the ending, she also knows what the future holds.  She knows about all the angst surrounding the fight for the throne, which is why she doesn't want 8th to aim for the throne.
Buuuut I feel pretty bad for 8th, who, by this time, is completely confused by Ruo Xi.  He's spent his whole life building up his power, all for the throne, and he can't just give that up, with Ruo Xi going "I got my own reasons, 8th, just abandon the throne!!" 
On the other hand, I think Ruo Xi hasn't fully devoted her love to 8th, because she's holding back so much.  Sure she doesn't want 8th to get hurt, but she also ought to have the desire to support him in all he does.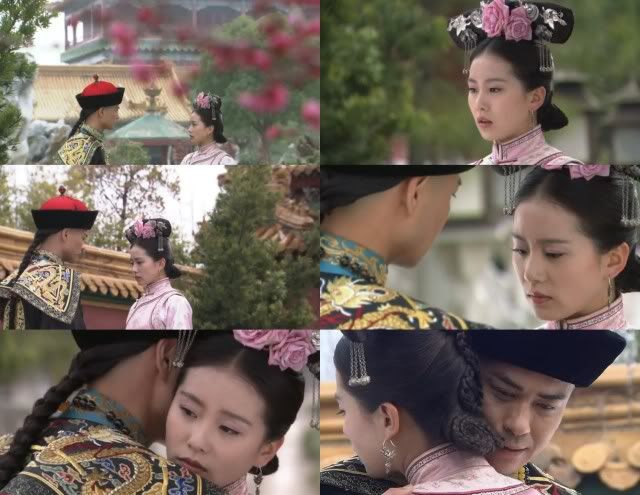 Back at the palace, Ruo Xi runs into 8th.  She continues to distance herself from him, and treats him coldly.  She mentions that she heard 8th's son has been harassing Ruo Lan.  She wants 8th to make sure this isn't happening.  8th dismisses it as a rumor, not the truth. 
"What's happened to us? Weren't we fine on the grasslands?  Why can't you be like you were then?"

"On the grasslands, there were only you and I.  There wasn't the throne, nor your wives, and your son."
8th promises Ruo Xi to look into the matter, and asks her to reconsider marrying him.  He says he's confused (oh, aren't we all) and doesn't understand what she's not telling him.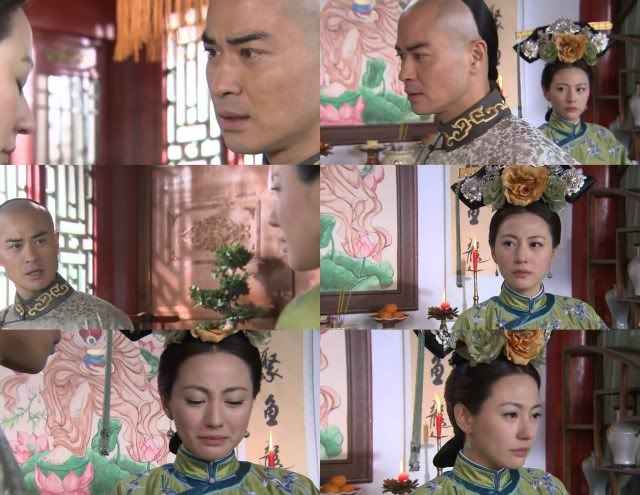 8th makes good on his promise, and visits Ruo Lan.  He clears up the misunderstanding about the death of Ruo Lan's true love.  Well, it's about time!
"…I began to know your heart is following him to the ground.  Though I have won around the world, I can't expect to win over him."
Ruo Lan begins to sob.  Even though she tries to regain her composure in front of 8th, she continues to cry throughout his little monologue.  I felt SO BAD for Ruo Lan during this scene!!!  Even though Ruo Lan is always polite and composed in front of 8th, we all know that she's not fooling anyone.  We all know she despises 8th and is as unhappy as heck. 
Other thoughts
This episode was pretty exciting because of the rapid romantic development/fall out between Ruo Xi and 8th.  IT IS TIME TO MOVE ONTO 4TH. 
Anyway, although I'm a fervent 4th shipper, I will give 8th credit for capturing Ruo Xi's heart.  I think 8th still might be using Ruo Xi as a substitute for Ruo Lan, as a way of making things right.  He said before he doesn't want this to end up the way things did with Ruo Lan.  This is, in a way, his version of a relationship that's gone right.  Is his love for her sincere, or is his love just really disguised for Ruo Lan?  I think it's a little bit of both.