Bu Bu Jing Xin: Ep 6 (Caps)
Time for Ruo Xi to enter the palace!  Despite the huge change in Ruo Xi's life, (from 8th bro's estate to the palace) this episode felt rather slow to me.  In all honesty, the only scenes that are significant are the 8th bro/Ruo Xi scene in the beginning and the 4th bro/Ruo Xi scene at the very end.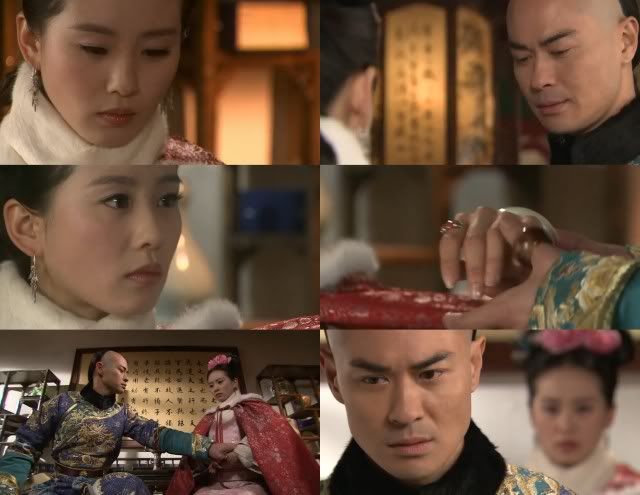 "I just want to find someone who truly loves and treasures me.  Not a someone a man plays with in his free time.  I'm a person, not a thing.  I don't want to be passed around."
Ruo Xi rejects 8th's offer to become his wife.  But she doesn't want to become the Emperor's concubine either.  So, 8th uses all his connections to try to get Ruo Xi out of the concubine selections. 
[insert rant here]  I understand that Ruo Xi simply wants to find true love, and not be treated as a possession.  But in her situation, 8th, 10th, and 13th are as good as you can get.  I think it'd be better to just go with one of the princes rather than risk being stuck in the palace as the emperor's concubine.  In JPLH, Qing Chuan + emperor wasn't even considered.  Hopefully Ruo Xi will completely avoid getting together with the emperor. o_o I bet they're only taking this route to show the palace life and the beautiful Forbidden City.
Ruo Xi enters the palace as a servant.  If she doesn't become a concubine, she has to stay a servant from age 20 to 24.  Serve 4 years as a servant, be the emperors concubine, or be 8th bro's wife?  HMMMM.
[insert another rant here]  8th bro wants to marry Ruo Xi.  It's been CONFIRMED by his own words.  I'm still kinda weirded out by this pair.  What ever happened to 4th?  Anyway, at least 8th understands that if Ruo Xi marries him, it should be her own choice, not forced upon her.
4th bro & 14th bro have a great bromance, as they both appeal to the Empress to take Ruo Xi off the concubine selection list.  I love the bromance in BBJX.  😀  Ruo Xi ends up being the Emperor's personal tea servant.  She quickly becomes the Head Tea Servant, and has two other subordinate servants.  lol, leave it to them to be incredibly serious about tea.  😛  8th tells her he'll try to get her out of the palace when he gets the chance.  I think Ruo Xi's responses to 8th bro's advances are rather ambiguous.  I mean..he's holding her hand and such, promising to get her out of the palace…for what (*hint hint* HE WANTS THE WEDDING BELLS TO RING!)  I think Ruo Xi thinks that since she already rejected him, 8th got the marriage idea out of his head.  Nope, not at all. 
4TH BRO SCENE!!!!  FINALLY!!!!!!


Ruo Xi asked 14th to find out 4th's likes and dislikes.  4th, being the super smart guy he is, figures out that 14th was just asking for Ruo Xi.  So he confronts her and tells  her she might as well ask all these questions directly.  Ruo Xi obliges and quizzes him on what he likes/hates.
"What's your favorite fruit?  Grapes."  *they both awkwardly look at 4th's purple clothes*  ROFL.

"What weather do you hate most?  Scorching hot days."

"That's because you're an ice block."

"What are you most scared of?  Crying women."  OMG I LOVE THAT ONE.  4th says all this with a completely straight face.
Um, I'm on 4th's side now.  He's just so much funnier than 8th.  And I like his overall composure–he's calm, collected, and super observant/smart.  He always looks like he's evaluating the situation in his mind.  I really need more 4th bro scenes!!
Overall
BBJX continues to be beautifully filmed, but for the most part, there's not much humor.  Actually I'm kinda glad that we get to switch over to the Forbidden City (although I don't like the politics as much) because there's some great shots boasting the beautiful architecture.  This episode is pretty uneventful, except for a 4TH BRO SCENE!!! YES!!!
The music continues to be lovely, especially in 8th bro scenes.  I think there's gonna be a shift toward the 4th/8th/Ruo Xi love triangle soon.